You know, when you go to write the 'homepage' of your website, the homage of yourself and the light you want to shine in the world, – you can't just pluck it out of thin air, – right? Or can you?
As a memoirist, I would love to write fiction, to spin my stories into ancient times of myths and fairytales, of deities and gods more powerful than any world-leaders I've seen. Sometimes softly spoken though mostly raging against some foreign enemy, like the rising tide of the Nile. – Ohhhh, I feel the creative juices bubbling over the top of my imagination cauldron by the pure imagery of it all.
I think I made a mistake when I promised myself I would finish my memoir before I started a new story.
Sometimes I break promises to myself and sometimes, no matter the reason, I give myself a hard time over it. I have started something new, right in the middle of writing Speak #TRUTH Lies. I promised I wouldn't, but is it wrong or am I just letting my creative muse come out and play?
Starting another story, mystical and fantastical and outrageously fictitious. I wonder, am only drawn into a fruitless displacement activity where really, all I'm doing is procrastinating on my memoir? – Maybe. Maybe, I'm looking for some respite from the real-life stories in Speak #Truth Lies. Anyhow, – even a writer is allowed a hobby right?
"Even writers are allowed hobbies, even when that hobby is writing."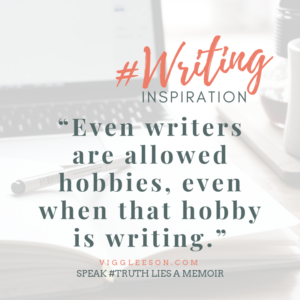 Love and Light
Vig ❤️
Join a journey of books, memories, mythical stories, ancient civilization, childhood deep-dives and mentorship on our road to walking each other home.
Oh no...This form doesn't exist. Head back to the manage forms page and select a different form.