Download Your Free Chapters
Hey, I'm so happy you want to read the first three chapters of my memoir. How would you like to read them? Please click on the download option below.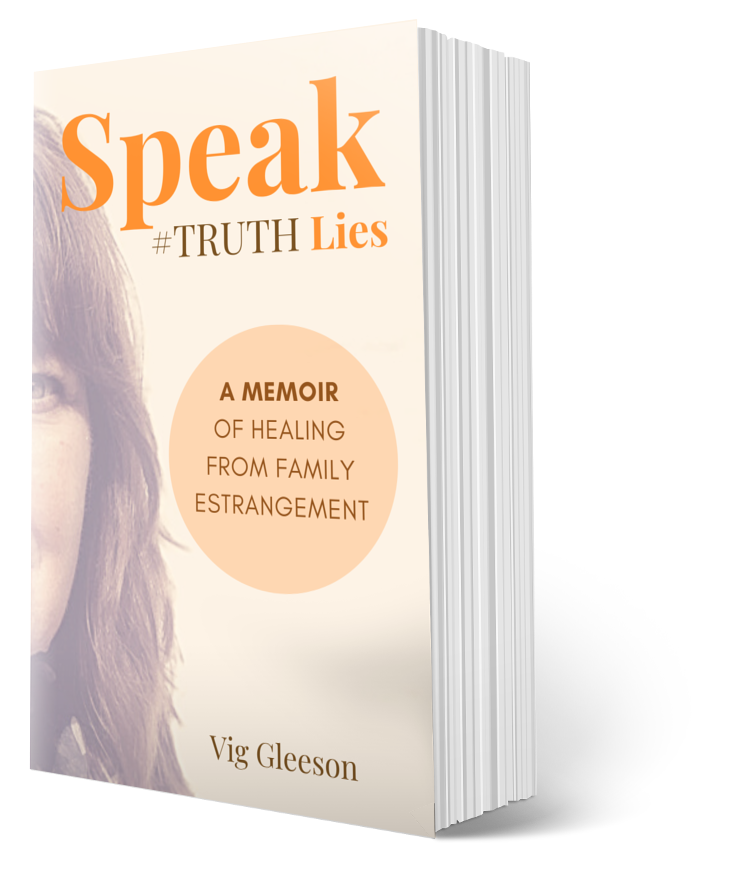 Read instantly on your phone. This PDF is in LARGE print.
This is a good option if you like to read on a screen bigger than a phone or you want to print the pages and hold them in your hand as you enjoy the read.
These links expire soon, so make sure you download your chapters today. Happy reading.
What does grief look like when an estranged father dies without saying a last farewell?
This is a question Vig has grappled with for years, and when the call comes that her father – whom she has not seen in fifteen long years – has died, Vig is about to experience what this grief feels like.
In her astonishing debut memoir, Speak Truth Lies, about Healing from Family Estrangement, Vig Gleeson bares her soul as she unravels the poignant story of a fractured relationship with her father. With raw vulnerability and unflinching honesty, the author has crafted a powerful story that invites the reader on a journey from grief to healing and self-discovery.
On a warm summer's day in 2018, Vig, at fifty-one, and her eleven-year-old daughter, Ruby, arrives on Atløy Island to bury her father, a sea captain. Set in the stunning landscape of coastal Norway, Vig weaves the natural beauty around her into the complexities of loss and the weight of unspoken words. Amidst a labyrinth of emotions, Vig recounts her deeply personal experience and delves into the conflicted feelings that surge within her – a profound mixture of guilt, shame, regret, heartache, anguish, confusion and anger. "I have no right to grieve him," she writes.
From journals and documents her father left behind, Vig uncovers — not only — the truth of the man her father was but a narrative of her own life she previously knew nothing about. Triggered by these discoveries, she recalls a childhood where her father, mostly absent, loomed like a large domineering figure she feared. "Why did you have to be so hard on me, Dad?" she asks. "What would our life be like if I wasn't so scared of you?"
Preparing for his funeral, the arrival of her father's family, and attempting to put her father's dire financial affairs in order, these probing questions lead her to explore the truth behind her fear and how it has impacted her whole life, up until this moment. When the full force of childhood trauma hits her like a tsunami, will she heal from her painful past, and can she find a way to reconcile with her father after his death?
Speak Truth Lies offers a captivating exploration that illuminates the profound impact estrangement can have on one's sense of self and the enduring quest for closure.
Thank you for reading. I am so grateful you are here and would love to hear from you. Please send me an email or leave a comment below.
Much Love and Light
Vig 🧡