GREAT NEWS! The Paperback is now available in IRELAND!
I got to the end of the road with Amazon who can't (won't) ship the paperback to Ireland, so I ordered a load of copies, ready and waiting to send directly to you. 🧡 If you live outside of Ireland and want a SIGNED copy, the cost is slightly higher than ordering it from Amazon.
Irish readers can now Buy The Paperback Direct from Me and get their copy SIGNED! Just fill out the form.

If you are already getting my Circular, then check your email, because I have already sent you the link to download your free chapters. Otherwise, click here and sign up, so I can send you the link to download and read the first three chapters. They are FREE!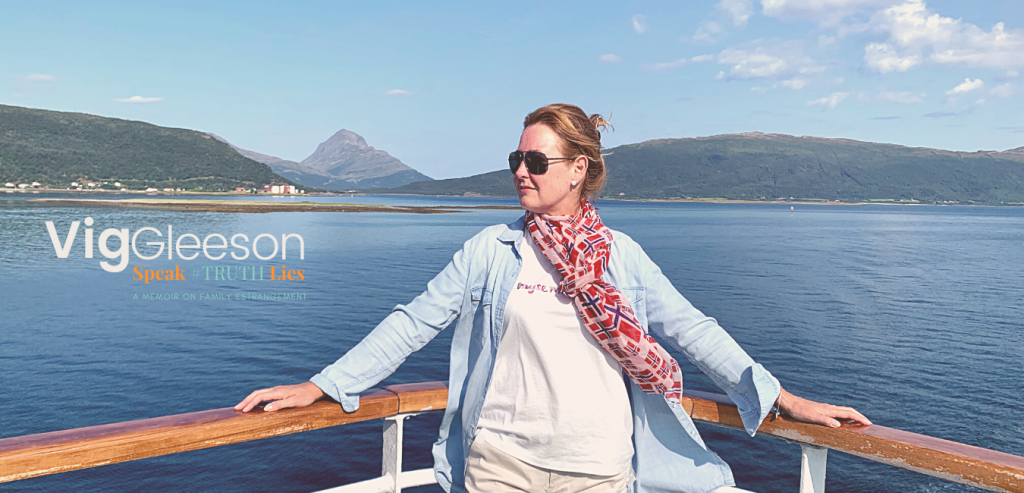 This is me, on the deck of Hurtigruten, 🛳️
That's where I stood, in the final scene in my memoir, Speak #TRUTH Lies, by the railing, looking out to sea. My Norwegian flag flapping in the wind. Visualising scattering my father's ashes. That's how I imagined his burial to be – his ashes dispersed into the sea.
The photo is from August 2019, a year after we buried him. Three years and six months ago. That's how long it's taken to write this memoir. Can you imagine how happy I am, to finally share my story with you?
Thank you for reading. I am so grateful you are here.
Much Love and Light
Vig 🧡

🌻 Many of you are asking how the marketing and book sales are going and what my publication experience is like. Here I share my publishing journey, marketing efort and sales figures with […]
❝ Remembering who you are
is how you take your power back. ❞
Lalah Delia @ InsightTimer