When we change the narrative of what happened to us, we change the trajectory of our life, of our future, the one we believe we are and the one we believe we can become.
This is what writing my memoir did for me and it can do the same for you.
This is me, on the deck of Hurtigruten, 🛳️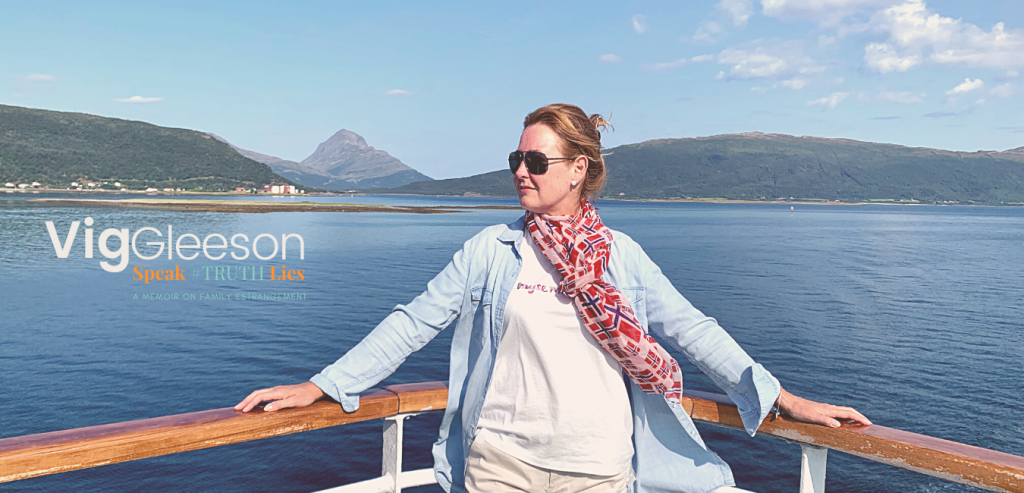 That's where I stood, in the final scene in my memoir, Speak #TRUTH Lies, by the railing, looking out to sea. My Norwegian flag flapping in the wind. Visualising scattering my father's ashes. That's how I imagined his burial to be – his ashes dispersed into the sea.
The photo is from August 2019, a year after we buried him. Three years and six months ago. That's how long it's taken to write this memoir.
It's been years of therapy on the page.
The opening scene from my memoir is when Ruby and I arrive, by ferry, on the remote island of Atløy, in July 2018. I hadn't seen my father in fourteen years – the last time we spoke was in 2008. I was heartbroken and couldn't understand why he didn't want to say a last farewell.
Dying, I contemplated, is so final, like a bunker door slamming shut. His silence was a final blow. What I learned from doing therapy on the page is how loud silence can be.
I was angry with him when I arrived at his dilapidated house on Atløy. He called it Knausten. It was a fine mess he left behind. A mess in stark contrast to the beauty of the place where he lived, for seventeen years and then died, without saying goodbye. You can read about it in my book.
The Making of a Memoir
I can't believe I'm here, that I've made it this far. Seeing 'The End' at the bottom of that page, last Wednesday, sparked excitement all over. In nine days my rock band of writer-friends is sending their feedback, after reading my memoir – for the first time. I trust my band of sisters to sprinkle their special magic over Speak #TRUTH Lies and make her shine. 🌟
The end of writing means marketing can begin in earnest. I've been looking forward to this part for so long. I get to be online and social and build websites and newscasts and design a book cover, and figure out how to publish and then sell the book. I love all this, especially the community, graphic design and tech stuff. I you let me, I would love to share what I learn with you.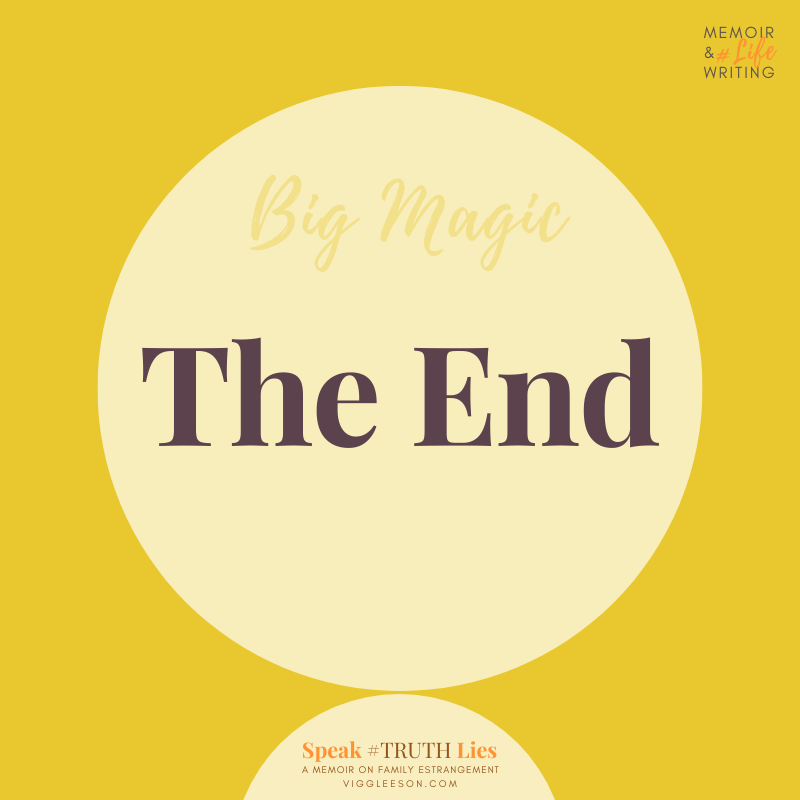 "Daring to seek a life that flows with ease towards the future, while living – at peace with our past – in the present."
Writing & Editing
I spent seven years learning how to write a memoir – it was not all I learned. Being warned about doing Therapy on the Page didn't take. I had to understand the narrative of my story, and how what happened to me shaped my beliefs, thoughts and emotions. I didn't 'go to therapy'. Instead, I worked it out on the page.
But to write a story my readers will love I had to figure out what my story is about and how it connects to my readers. That, to me is the true haArt of Memoir.
Marketing
With a degree in graphic design and marketing and a long career in the internet industry, before becoming Ruby's Mum, I'm also a tech geek. I get a thrill from working out how to design a new website, emails and book formatting. I spend way too much time designing pretty graphics to match my brand and share my words and photographs. But, how will I get my memoirs into the hands of thousands of readers? Yes, it has to sell in the thousands, for how else will I get paid?
Writers' Friends
My cohort of writer's friends has expanded to become the fertile soil from where my writing grows. 🪴
These are my best friends, the ones I love hanging out with, most times online. They are my writing buddies, cheerleaders, kind critics and readers. I always have room for more writer and reader friends.
Photography
Photographs were central to remembering scenes I included in my memoir. When you read Speak #TRUTH Lies, you'll recognise these photos.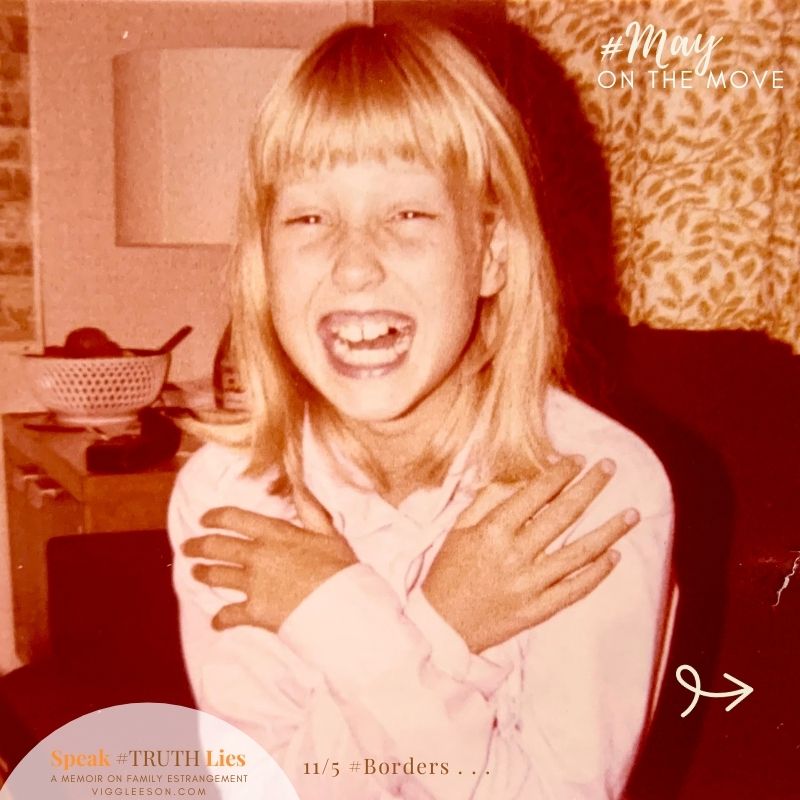 Publishing
I want to publish Speak #TRUTH Lies on my birthday. I won't know for sure if I will make that timeframe until I've read up on KPD. It's on my 🎯 list. I've hired a professional copyeditor and proofreader, I might hire a professional to design my book cover too.
Teachers
From the best books on writing to the best YouTubers, podcasts and Facebook groups. This is what worked for me.
Living the ex-pat Life
I've lived outside my native country, Norway 🇳🇴 since October 1991. I'm Irish ☘️ too, by nationality. This summer 2023 we'll be moving from Athens back to our home in Limerick. It's where Frank McCourt's Angela's Ashes was set. I will be writing about our repatriation and all the expectations I have for a life 'back home'.
I'm sharing what I learn, as it happens. If you have a love of memoirs, an affinity with Norway, Ireland, Greece, Egypt or father-daughter relationships – whether reading the genre or writing your own – I would love to connect with you. I mostly hang out on Instagram and my Memoir & Life Writing Facebook group. I cherish great email conversations – if that's you too – get in touch here and I will see you, within minutes, in your inbox. 
Thank you for reading. I am grateful you are here.
Much Love and Light
Vig 🧡
I can't believe I'm here, that I've made it this far. It's been seven years! Seeing 'The End' at the bottom of that page, three weeks ago, sparked excitement all over. Today I received feedback […]
This error message is only visible to WordPress admins
Error: No feed found.
Please go to the Instagram Feed settings page to create a feed.
❝ Remembering who you are
is how you take your power back. ❞
Lalah Delia @ InsightTimer