Donna's Book on Fire module on the Shitty First Draft really pissed me off.
I know that every time I have a strong emotion around something, especially the kind of resistance I felt against the Shitty First Draft lesson – there's something juicy in it for me to learn.
I had to give this lesson a lot of time to percolate in my mind before I arrived at my own truth.
At the time I was editing as I wrote. Refining my word-smithery and leaving my chapters clean and glorious. I needed to polished them in a way they would inspired me, when I read them back, so I could see my writing flow with skilful use of language.
Maybe it's because I'm dyslexic (so many writers are), and took such a hard battering during my school days, I never thought I'd learn to write at all. Maybe it's because English is my second language, and I want honour it by aspiring to an excellent standard.
What ever the reason, it was firmly routed in Perfectionism, and I know only too well that that means something to do with fear.
There's noting 'shitty' about my writing, I complained to Donna and my co-students, none of who's read any of my drafts. To refer to my writing that way is offensive – in MY opinion. I snarled in our Facebook Group.
My monkey mind agreed: I can't just sit and write shit!
Then I remembered how stuck I've got in my work, the chapters didn't flow from my fingers, straight into Scrivener, the same way as before. I thought I might as well give this shitty first draft thing a go, before I knocked it comlpletely.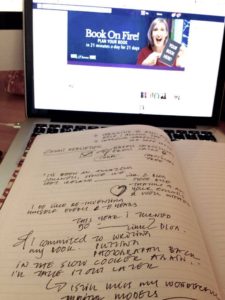 I grabbed a notebook and started to scrawl by hand, and here it is, – my Shitty First Draft. What can I say? Donna was right and all I can do is bow in grace for this lesson. It brought me back to my love of handwriting in my journals, and it gave me permission to leave the office and snuggle up on the sofa or sun lounger while still being productive at work. It's also helping me enormously when it comes to retelling some of the hardest parts of my past.
The Book on Fire programme is part of the Creative Academy, which means you also get access to three amazing mentors, the extensive Resource Room and our live meetings  when you sign up.  While you thinking about it, head over to Donna's Write Woman Write group. I'll see you there. 
Love and Light
Vig ❤️
I love keeping in touch, don't you? Pop your details in below and every few weeks, or so, I'll send you my musings on writing, life and #TRUTH hunting.