The promenade is teeming with people taking their evening stroll along the banks of the Nile, or selling their wares of 'Made in China' souvenirs of Egyptian pharaohs, gods and monuments.  We cross the busy road and trail off to the souks (markets) behind the tall buildings fronting the Kornish.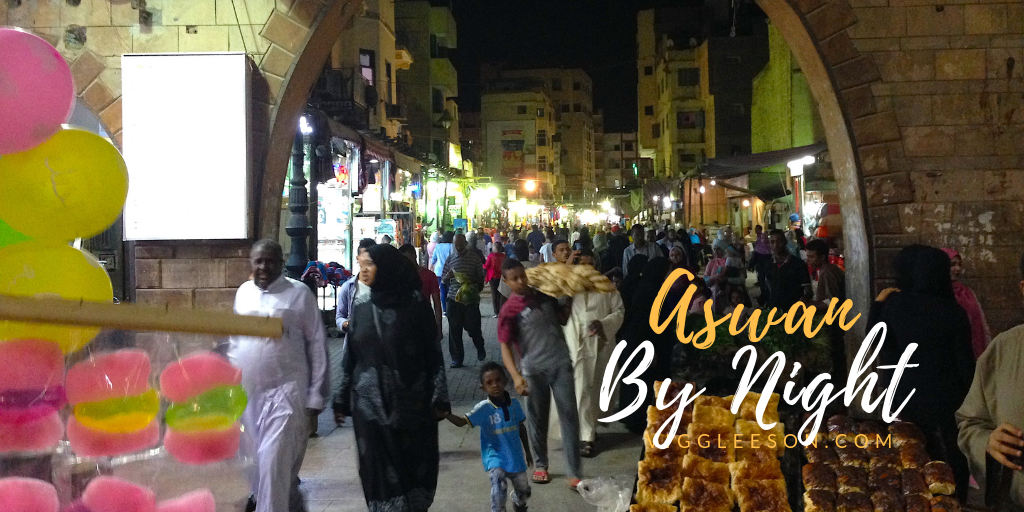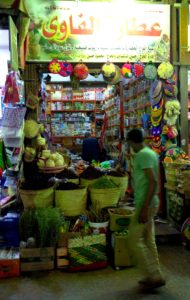 Here we find noise and colours, smells of spices and incense, more trinkets from China and toys from Taiwan, next to fluorescent coloured sweets and balloons. Baladi bred carried on large boards passing colorfully crocheted handwork and woven baskets. Handmade shoes and bags and galebeyas cover walls around doors to shops where insistent voices call us in 'Just have a look.' Traders chanting 'Five pounds, good price for you madam,' as we meander past in search for tonic, which seem to be out of stock everywhere.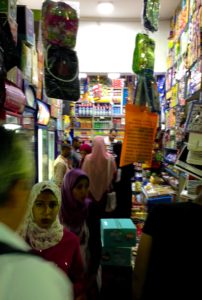 As we call into one corner shop after another we soon attract an ensemble of young men offering to guide us to the merchant who still has tonic left. I sing out my 'la-la-la-la' song for 'no-no-no' until a rapt finale of 'Halass' (enough) let us walk in peace a few moments more. Soon Shane gives in and we follow a brown galebeya with a white turban as he hastens back to the Nile, to the big shop by the u-turn, where tonic is plentiful. A loud 'shit' escapes Shane as we cross back over the Nile, he's been ripped-off once more, a new reminder not to put to much trust in local Egyptian traders at all.
Healthy options are sorely lacking at the buffet for breakfast. White bred and sweet pastry doesn't go well with my scrambled eggs which I take with tomatoes and a slice of Egyptian cheese and enjoy three cups of fresh coffee, the last of which I bring to the garden, where at 7:30 the day is already hot.
 Welcome on board M/S Amwaj
We wait in the lounge by reception, with a welcome drink, while our guide checks us into M/S Amwaj Living Stone. He returns with our key cards and introduce us to Ahmed, our Nile Cruise guide before he bid us goodbye and a pleasant voyage. I don't get why Ahmed insists on running through the excursion itinerary before we go to our cabin. It's only after lunch when we leave for the High Dam and the Temples of Philae we realise, Ahmed is our private guide, we have a private driver and car to take us there too.
Next : Aswan High Dam and The Temples of Philae – Continue reading
Much Love and Light
Vig ❤️
I'd love to keep in touch, don't you? Pop your details in below and every few weeks, or so, I'll send you my musings on writing, life and #TRUTH.