Articles from my personal Journals
My seven-year journey to becoming a published memoirist happened while we lived in Athens, Cairo and Bangkok. Here I write about life as it happens, living abroad, being a mother, wife, sister and daughter as well as living a writer's life.
If you wonder what it's like being a published author, and how to write a memoir, from therapy on the page (the first drafts) through revision, editing, book design, publishing, marketing and selling your memoir, you will love these articles.
The shitty first drafts of these articles first appeared in my private journals and morning pages. When you sign up for my biweekly Cercular you'll never miss an article. Who knows, it might just be the spark of inspiration you need to write.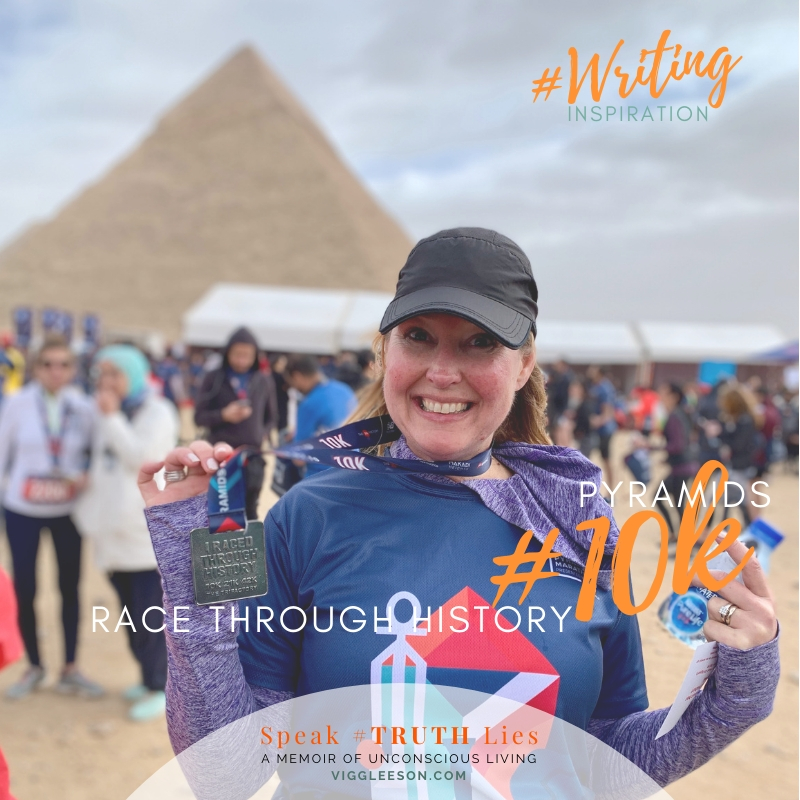 Welcome to my Life & Memoir Writing Journey 🧡
---
"The extent to which you know your inner child is proportional to how well you know yourself." Vig's Trauma Theory

We arrived in Ireland on Friday 4 August and caught the train to my mother-in-law, thinking we would stay for a few days – that's […]

… omg. Tears, Laughter, Delight and so much more. I love Speak #TRUTH Lies. What a Read! Fantastic! Later, Cliona sent me this WhatsApp message: […]

This week, in Athens, a dream came true. With the gift of two tickets, we got to see a hero in concert. Would he sing […]

Think of the first paragraph of your memoir as the opening scene of a movie or tv series. Every story, every movie, every bookstarts with […]

I can't believe I'm here, that I've made it this far. It's been seven years! Seeing 'The End' at the bottom of that page, three weeks ago, […]

I'm having a bit too much fun playing with Artificial intelligence (AI) today. I wanted to see what it comes up with as suggestions for […]

Meet the Author In her 2003 book, ❝I Thought We'd Never Speak Again❞ @laurasaridavis Laura writes about how it went, when she interviewed her mother, […]

I'm living in a turbulent time right now. Aren't we all you might say and if you do, then you are right and I hope […]

I'm trying, I'm really trying to get on with revision, transcribing voice notes and rewriting, while the drilling continues upstairs. our Athens building block is […]

I'm eating chocolate and feel lazy and fat, her message said, I hope you feel better than me. Nop, I'm not doing any better than […]

It's re-write time and from the muddy pool of shitty drafts, a small jewel appears – at least I think it's a jewel. I rinse […]

Since last week's blog I've pondered the question of wether I can truly let go of knowing, of control, of my need to be right, […]

I adapted this from Dr Shefali, who says 'Connect before you Correct' as a parent. I love that woman and I'm so grateful for how […]

Not ok is ok Don't be okwhen it's not okLean into the pain in your heartwhen it breaksfor the smallest things;a mum who says 'wait' […]

In 1910 Wallace D. Wattles wrote; "The poor do not need charity; they need inspiration. Charity only sends them a loaf of bread to keep […]

I didn't realise revising my memoir would be this hard or take this long, but now I see what I'm here to learn. As I […]

In 2013 a study by the Global Burden of Disease (GBD) found that over 95% of the world's population has health problems. Lower back pain […]

On this day (April 9) seventeen years ago, the most nurturing and positively influential woman, to me, took her last breath and left this life.

I always thought there where two kinds of people – those with and those (like me) without confidence. Those WITH confidence seemed more genuine. I […]

Apparently, most new year resolutions have fallen by the wayside by February, so what can March offer us? Is it better to sit back and […]

How brain research helped me be a better parent to my teenage daughter. This week I had the great fortune to attend a keynote talk […]

Whenever I struggle to keep up with my plans I ask myself; – have I broken down the steps into small enough chunks?' I've been […]

There is nothing quite so luscious as getting lost in the FLOW, where you forget that you haven't washed your hair in 3 days and […]

I light a candle, defusing healing incense into the space around me, and settle with my writing. It feels like I've been gone forever. I've […]

It's been 12 years since the last time we went on holidays, just the two of us, without the Awesome Kid. We tingle with excitement […]

Dear Ones, [SEPTEMBER 2018] You may know, my father, The Captain, died in July and I went to Norway for his . . . . […]

I'm reading 'Some Rain Must Fall' by my fellow countryman and memoirist  Karl Ove Knugsgaard at the moment. It starts with his student year at […]

Dear Ones, This is one of those strange times in my life, when all I can do is lean into love and be ok with […]

Today feels like starting all over agin. The surge of fear swells up from my gut like burning indigestion. Halting my breath as if I'm […]

Last weekend, having lunch, I saw a good mum feeding her 10 year old daughter. It wasn't a very healthy lunch and the daughter could […]

My god, what am I like? So yesterday I wrote about showing up on time for our Write-In's and today I turn up late for Ruby's […]

One of the hardest chapters for me to write was about what happened in a blue Volvo when I was about 5. It's one of […]

Donna's Book on Fire module on the Shitty First Draft really pissed me off. I know that every time I have a strong emotion around […]

I don't want to write a memoir. It's too raw and scary. Too 'laying it all on the line,' too vulnerable. I'm afraid I won't […]

If you like these articles you will love my emails 🙂 They're a roundup of what happened and lessons learned since my last email. I love a good email conversation. To me, emails stand as the last frontier of sharing our life writing. It is just like writing letters. Journaling and letter writing were two of my favourite things to do when I backpacked through Australia and Southeast Asia in the early '90s. That's when I met Shane. Email is the most intimate we can be with each other, over distance, through written words. If you like my writing you will love my emails. Get them here and I'll see you, within minutes, in your inbox. Thank you for reading. I am grateful you are here. 🧡
Much Love and Light
Vig 🧡

My writer's life have finally received some divine help.  In the past 10 days, apart form a god awful bout of food poisoning with days in bed, I been doing Donna Barker's amazing Writer on Fire Beta Writers Course. This is a…