It's been 12 years since the last time we went on holidays, just the two of us, without the Awesome Kid.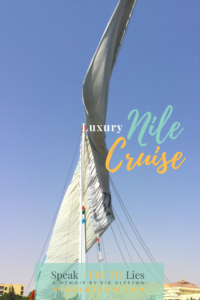 We tingle with excitement walking through the school gate at 9 on Sunday morning. It's the first time since Ruby started Middle School I've been let walk her onto campus, and today I get to follow her all the way to her classroom, which is abuzz with even more excitement. I hand her passport to Andy, her advisor, and nearly forget to hug her goodbye, and have a great PRIME Trip before I bounce back to the car. She will be in Luxor with her grade level for five days without any electronics and we're strongly advised against calling her.
Soon after we speed along the unusually quite Ring Road, towards Cairo airport. Yesterday was 6. October, Armed Forces Day, and today is a national holiday.
To me, there is something strange about celebrating the beginning of a war, but the far-reaching effects of 6. October is not my mind today. Soon we have coffee and breakfast in the business lounge before boarding our 1 hour 20 min flight to Aswan.
A small congregation of armed guards, guides and drivers greet us in the otherwise empty arrival hall. Scanning the guide's signs for our name we see one from the same travel agency like ours, though it's definitely not our name on his sign. As we wait for the carousel to start Shane walk up to the guy with the sign and sure enough he's our guide. Our travel agent in Cairo had been very consistent in dropping balls on the long and arduous journey it took to put together our trip, so we're expecting screwups.
The sweet smell in the air rouses me as soon as we're outside. 'Wow,' I say to Shane and the guide, 'can you smell that?' Our guide promptly starts a proud talk on how much better life is here than in Cairo. How the air is fresher and people take pride in their environment. I see the evidence of it as soon as we get to the outskirts of Aswan. The roads are swept, there's no rubbish anywhere. It feels fresh and clean without all the unbecoming litter so prevalent in most of Cairo's streets.
He points out Agatha Christie and Winston Churchill's Old Cataract, as we drive down the wide bend in the hill to the promenade. We decide to go there for dinner but first, we cross the Nile to the Elephantine Island where our guide checks us into the Movenpick for our first night.
We ravel a while in the panoramic view from our balcony on the 3rd floor, before drinking in the sunset at the large pool where we're served Sakara and savory snacks.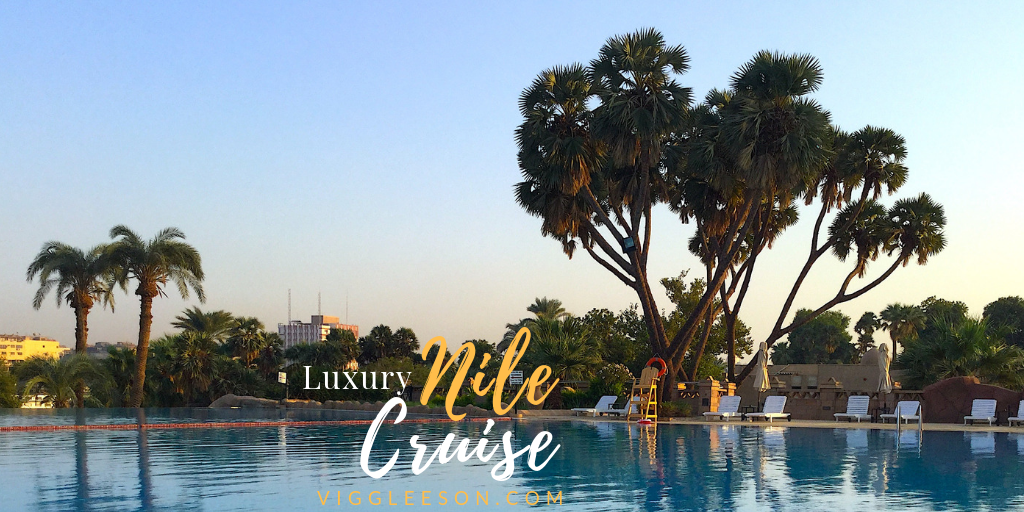 The boat crossing the Nile, between Movenpick and the promenade, takes only a few minutes, too short really, and the wait is short. Here boats seem to be puttering back and forth all day and night long.
Next : The Old Cataract Hotel – Continue reading
Gina is doing her Egyptian Luxury Tour in November 2018. Visit Egypt Luxury Tour on Facebook to book and find out more. 
Much Love and Light
Vig ❤️
I'd love to keep in touch, don't you? Pop your details in below and every few weeks, or so, I'll send you my musings on writing, life and #TRUTH.
Oh no...This form doesn't exist. Head back to the manage forms page and select a different form.